Candidate Performance Report
A Comprehensive Report for Candidates That Do Not Pass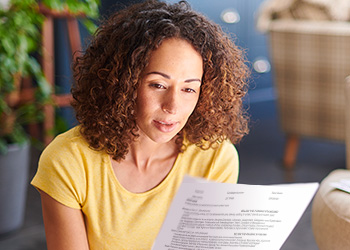 What is a Candidate Performance Report (CPR)?
The NCLEX CPR is an individualized, two-page document sent to candidates if they fail the NCLEX-RN or NCLEX-PN. If candidates did not answer at least 75 questions, they'll receive an abbreviated CPR. This will tell candidates how many questions were answered and how many are required to be evaluated. No further diagnostic information is provided.
Download Sample NCLEX-RN CPR
Download Sample NCLEX-PN CPR
What can the CPR tell a candidate about their exam?
The CPR is only intended to provide indications of the candidate's strengths and weaknesses. The NCLEX is not graded in sections. The overall performance on the exam determines the pass/fail status.
The front side of the CPR provides:

A brief explanation of how Computerized Adaptive Testing (CAT) works
How many items the candidate answered
Suggestions on how to use the information on the second side of the page
The number of questions a candidate answered is an indication of how close the candidate was to the passing standard. Only those candidates whose performance was close to the passing standard had to answer the maximum of 130 questions. For candidates whose performance was further away from the passing standard, fewer items were required before a confident pass or fail decision could be made.
The backside of the CPR provides:

The eight NCLEX Test Plan content areas, grouped by the quality of candidate performance (ability):

"Below the Passing Standard"
"Near the Passing Standard"
"Above the Passing Standard"

"Client Subneed" for each content area, which includes:

A description of the content area
Its percentage of the test
A list of topics related to the content area
These descriptions can be used to determine in which areas of the Test Plan the candidate has shown the greatest weakness and as a guide to prepare the candidate to retake the exam. Candidates should concentrate first in those areas listed under "Below the Passing Standard" and work up to those areas listed in "Near the Passing Standard." Furthermore, even though the ability for a given content area may indicate that it is above the passing standard, these areas should be studied as well in order to maintain proficiency.